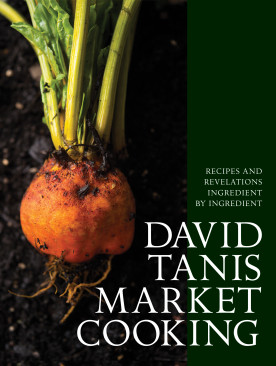 A masterwork of recipes, approach, technique, and philosophy, David Tanis Market Cooking is as inspiring as it is essential. At 480 pages, it is the beloved chef and writer's most comprehensive book to date. Tanis leads readers through the market, ingredient by ingredient, teaching them the skills and confidence to create satisfying meals, prepared simply.
Advance Praise for David Tanis Market Cooking:
Named one of Publishers Weekly's Top 10 Cookbooks for Fall 2017
"I could happily eat David's food every day. I love its beauty, simplicity, and integrity, and there's always an element of surprise. Market Cooking is his best book yet."
—ALICE WATERS, owner, Chez Panisse, and founder, the Edible Schoolyard Project
"There is a refreshing clarity to David Tanis's food. Who needs fireworks when your ingredients are market-fresh, the recipes are reassuringly straightforward, and the author is the most brilliant cook?"
—YOTAM OTTOLENGHI Ottolenghi, author of Plenty and Jerusalem
"David Tanis always makes me want to cook—right now. This is a gorgeous and essential book."
—DEBORAH MADISON, author of In My Kitchen and Vegetable Cooking Forever
"I do not know how he does it, but David Tanis has produced another can't-do-without book—a classic."
—MADHUR JAFFREY, author of Vegetarian India
"David's cooking is succulent, fresh, and full of joy."
—FRANCIS MALLMANN, author of Mallmann on Fire
"In Market Cooking, David Tanis shares the genius of his nuanced, simple yet sophisticated dishes. His book is a must-read for home cooks and professional chefs alike."
—TRAVIS LETT, author of Gjelina
"A gem of a book—David's food is the perfect balance of wise traditions and contemporary whimsy."
—GABRIELA CÁMARA, chef, Cala and Contramar
"I can't explain it! He makes magic with simple ingredients and with such ease.
Tanis is a wizard!"
—IGNACIO MATTOS, chef/co-owner, Estela
"What joy . . . I love the purity and simplicity of David's food and his evocative prose."
—DARINA ALLEN, founder, Ballymaloe Cookery School; author of Grow, Cook, Nourish