The Joys of Sicily
I recently spent a week in Sicily in what I reckon is one of the most beautiful valleys in the world.  I have been there in every season, experiencing the the shortening days of autumn, the scorching sun-filled summertime, the cold, damp, drizzling winter. Now, with this visit, I have seen the green, green spring. And a brilliant green it is.
I've been invited to be a guest instructor in the kitchen at Anna Tasca Lanza Cooking School, which is indeed an honor and a pleasure. Working in tandem with my friend Fabrizia Lanza, the intrepid proprietor of the school, I want to show our group of cooks some of the ways to use simple Sicilian ingredients. Though my approach isn't strictly Sicilian, it is in spirit, I think; Fabrizia, a real Sicilian, demonstrates a variety of classic traditional dishes and gives them a cultural and historical context. We have a field trip and a cooking class each day, dining extremely well on our daily creations and drinking the wonderful Regaleale wines from the Tasca estate.
Spring has finally arrived, after a long harsh winter, with late rains and even a bit of snow. The hills are dotted with wild flowers and wild herbs, notably finocchio selvatico, the native fennel that finds its way into so many Sicilian dishes. Once harvested, the wild fennel is simmered in water until tender. Mixed with breadcrumbs, egg and cheese, it is fried to make polpettine. As a flavoring for fresh or dried fava beans, it enhances maccu​, a​ traditional extraordinarily satisfying and comforting soup. With bucatini, sardines, and saffron, it is the necessary herb for the justly acclaimed pasta con le sarde.
​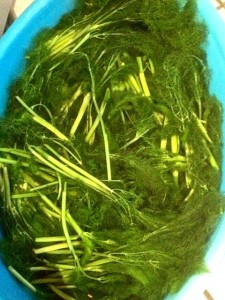 ​
The vegetable garden has been planted with leeks, garlic and onions, but it's far too soon to pick more than the odd scallion or garlic shoot for salad dressing. Chickpeas are showing their frilly barely sprouted leaves; fava beans are just flowering. But the remnants of the winter garden can still supply something for every meal. I'm in heaven, since my favorite thing to do is scavenge for a meal's worth of vegetables and use them immediately, so much better than hunting for dinner in a refrigerator. We pick greens for a big salad every day, usually a mixture of chicories, lettuces, rucola, mâche and tender spinach, along with mustard and calendula flowers and a few foraged leaves.  There is lots of chard to harvest, and the last of the broccoli, some tiny cabbages. There's patch of cardoons too, and blood oranges, lemons and grapefruits. In a month or so, the garden's offerings will change dramatically.
​

​
In a neighboring valley there's a family-run sheep dairy where Filippo, the master cheese maker, shows us the early morning cheese making process. Twice each day, 500 sheep are milked by hand, which produces 400 liters of milk, enough to fill a giant vat. After the cheese curd is cut and scooped into molds, the whey is transferred to a huge kettle, heated beneath by a wood fire. When the whey reaches the proper temperature, after about an hour, it magically produces the most delicate ricotta, heavenly when tasted while still warm for breakfast, with a little honey.
​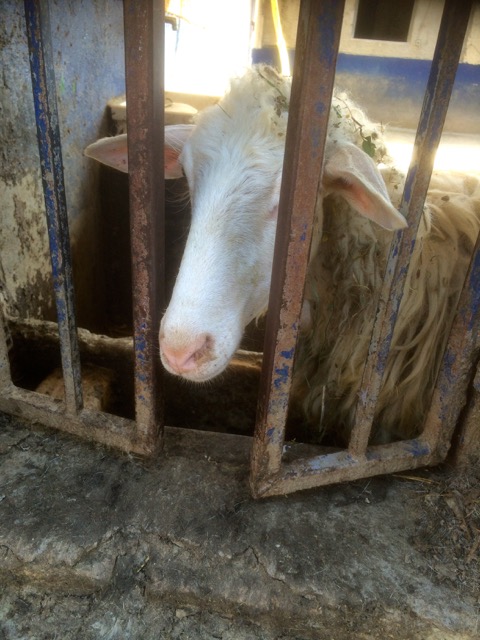 ​
​
One day we spend the morning at the fish market in Catania. Steps away from the central piazza, it is a sight to behold. All manner of fish and shellfish are for sale, from the impossibly long and silvery spatula fish to the tiniest clam-like bivalves called telline. The blood ​red Sicilian tuna, ​the ​bonito and mackerel, the squid and cuttlefish, skate, prawns and langoustines…  it's a veritable 3-ring circus of tasty marine creatures.  At a marketside cafe we sample exquisite raw tidbits, gifts from the fishmongers to eat on the spot with salt and lemon, before heading to a little trattoria for a fishy lunch: fritto misto to start, and a stellar spaghetti nero tossed with a marvelous deep-flavored black squid ink sauce. We also buy sea urchins to make a heavenly but very simple 4-ingredient pasta back at Case Vecchie. That night, dinner was a seafood extravaganza.
​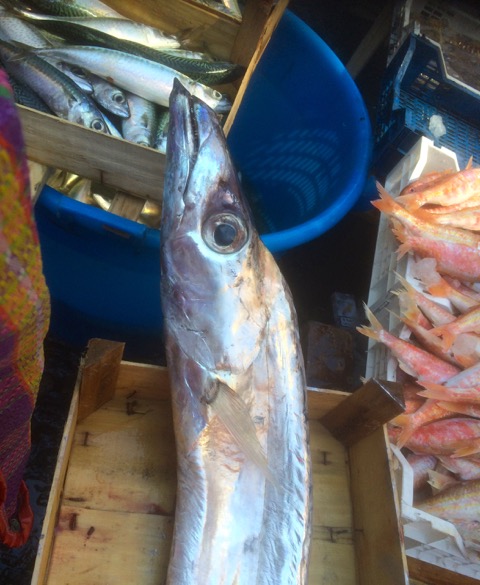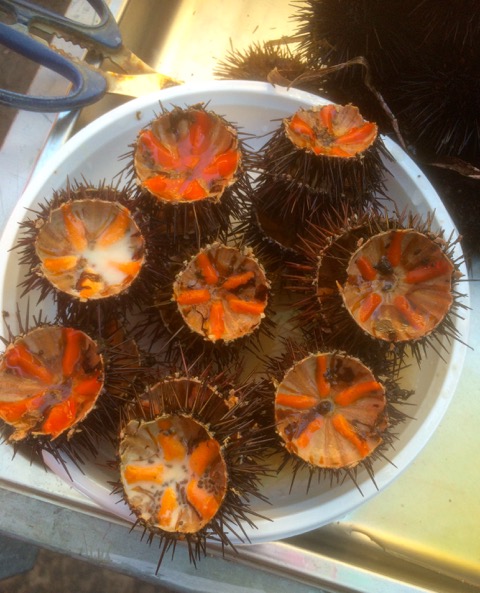 The school is housed in a compound of old stone buildings called Case Vecchie. The kitchen is its beating heart. It still has the original wood burning oven, which we fired up for baking, but with only moderate success. Some of our breads and pizze got a bit charred, I'm afraid. Still delicious. But the results were spectacular when I roasted extra-thick tuna steaks in it. Fabrizia made two Sicilian favorites, sfincione and scaccia ragusana, as well as her own sourdough loaves made with local wheat varieties. You can find the recipes for them in her wonderful cookbook, Coming Home to Sicily, where you can also read all about the school and farm and the seasonal cycles of the place, with brilliant stories and photgraphs. For more information about the school, visit the website annatascalanza.com